By John Dolan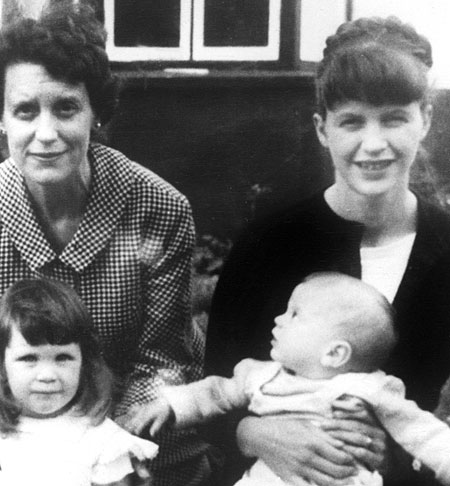 Most Recent Photograph of That Guy That Plath Popped Out
(bottom right; circa 1962)
Sylvia Plath's son died yesterday. That's how it was reported, even by the BBC. The dead man's name was Nicholas Hughes, not Plath, but in death we learn which parent really mattered. For the record, he was also the son of a poet far greater than Plath, a man named Ted Hughes.
Hughes has been snubbed and despised for most of my lifetime, on both sides of the Atlantic. The American response is typically simple-minded and moralistic: "He killed poor Sylvia!" The British scorn for Hughes is (also typically) bitchy and disingenuous. But the result has been a boycott of serious appreciation of his work throughout the English-speaking world, and so powerful in England that they're willing to lose the services of the best man on their team rather than give Hughes his due, while cheering their cheesiest and most worthless literary lights, like the pitifully untalented W. H. Auden.
First, a little disclosure, as they say: Hughes was the reason I became a poet. Which, come to think of it, gives me a real reason to hate him. When I was young the only poets I truly loved were Browning and Hughes-and now I could do without the Browning. I had Hughes's first four books memorized. I remember the sequence of titles, long afternoons in the Pleasant Hill Public Library, learning to worship the fauna of the British Isles with him: Hawk in the Rain. Lupercal. Wodwo. Crow.
Crow, of course, was his concept album, his jump into pop stardom, and it cost him, as those concept albums of the hippie era usually did cost their makers. He made his creed accessible to the hippies, too accessible, and entered a cheaper and more ephemeral world. But even Crow has moments of sheer magnificence (like "Crow Paints Himself into A Chinese Mural": "the grass camps in its tussocks…the spears, the banners wait."), nerdy male greatness you normally find only in science fiction or in the rare moments Stevens was willing to tell stories (eg "Page from A Tale").
Hughes wrote like a young man. Not like a bombastic fool in the Whitman/Hemingway tradition, but a man who liked animals and gore-a normal nerd, in other words. This was a great sin in twentieth-century poetry. If you were going to write from your loins in modernism, you were well advised to be an exhibitionist closet case; if that was unavailable to you, you could try the Henry Miller schtick and stick to (apologies to French and Saunders) Raw Sex, because that at least might have the merit of offending the bigwigs. (This was of course gross naivete about the nature of the elite; cut to the young Queen Mother giggling, drunk, as Eliot tries to shock her and her equally debauched friends at a reading.)
Hughes, a respectable lower-middle class kid, was loath to talk dirty until Crow pushed him over the edge. He was happier at the zoo, enjoying the jaguars and the hawks. This was all wrong; it was too cheerful and obvious and gross.
To make it in high modernism, you were better off affecting the epicene voice of a very old man-say, Teiresias, Eliot's official spokes-dotard, or if you were too randy to pull that voice off, like Pound, blithering on with cut-and-paste erudition made bearable only by wholesale thefts from Browning. Hughes was too straightforward and talented to notice these fickle breezes; he, like his friend Thom Gunn, did something very un-modernist: he wrote as well and as clearly as he could about the things he loved. This was unforgivable; it was a profound rejection of Modernism.
Hughes thought and wrote in the mode of an honest word nerd who loved what we all love: fierce talk and animals. A few plants, too; as with Hughes's poem to a fern: "Like the plume of a warrior returning, under the low hills, to his own kingdom." Hughes is an animist, and his pantheon, like the Egyptians', is a zoo. Literally a zoo in some of his most famous early poems, like the song to a caged big cat, "Second Glance at A Jaguar": "Skinful of bowls, he bowls them…." His most famous poem, "Hawk Roosting," anticipated by decades Gary Larson's animal-worship ("Birds of prey know they're cool"). That poem drew a lot of flak from critics who found it too gory and too cheerful about it, lines like "For the one path of my flight is direct through the bones of the living…."–as if a hawk should speak like a neurotic Quaker, like Robert Lowell. I read that poem as a furious testosterone-poisoned adolescent and all but frothed at the mouth for sheer dark joy:
I sit in the top of the wood, my eyes closed.

Inaction, no falsifying dream

Between my hooked head and hooked feet:

Or in sleep rehearse perfect kills and eat.
This was the language of everything a normal boy loved: the beautiful predators of the nature documentaries celebrated in words worthy of them for the first time. It was such a cleansing shower of un-morality, after being suffocated with the dismal quasi-Buddhism of West Coast poetry. The last lines of the poem constituted some of the very few post-war arrangements of words in this language worthy of the Nietzschean almost-world of Europe before 1945:
Nothing has changed since I began.
My eye has permitted no change.

I am going to keep things like this.
The utter flatness of those assertions, one after another, managed to find the "less and less human" voice that Stevens had prophesied, without being able to deliver (because Stevens was equidistant from every living creature, human or not).
What's amazing, in retrospect, is that Hughes managed to be celebrated in the first place, not that he inspired hatred among literary people. How did they let that hawk onstage, in the squeamish world of the 1950s?
Hughes brought Darwin to Nature poetry ("Terrifying are the alert sleek thrushes on the lawn,/More coiled steel than living…." Without losing the forest-worship of the old island, where a squirrel could go from Land's End to John o' Groats without touching the ground. That was what Hughes wanted, dreamed of, and that made many breeds of humanophiles uneasy. His Britain wasn't real because it didn't have enough chip shops, false teeth and divorces in it, they said. That hawk of his was a fascist, a bloody fascist! (To which the answer is obvious: why yes, of course; have you ever actually seen a hawk?)
Read more: Nicholas Hughes, poetry, suicide, Sylvia Plath, ted hughes, John Dolan, Books, Fatwah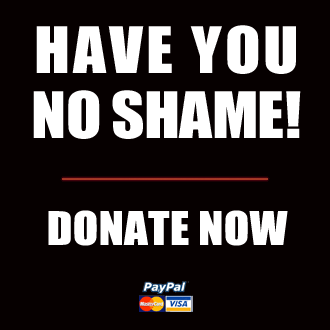 Got something to say to us? Then send us a letter.
Want us to stick around? Donate to The eXiled.
Twitter twerps can follow us at twitter.com/exiledonline