By Mark Ames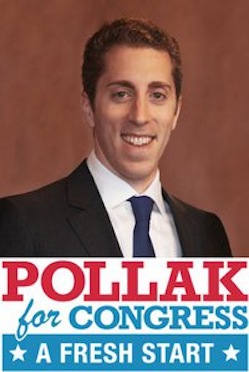 Joel B. Pollak, Teafailure: Be careful, he might use a proxy on you!
Urgent update, folks! Andrew Breitbart's Koch-monkey, Joel B. Pollak, just outdid himself as the top ace gumshoe reporter of the retarded-right. Yes folks, Joel. B. Pollak, peddler of the "Johnny Chen Conspiracy Theory" that changed the face of journalism as we know it, now has another shocking scoop about eXiled editor Mark Ames–and to get the scoop, he even used what hi-tech futuristic types call a "proxy." Yep, betcha you never heard of a "proxy" before, but that's because you're not an ace reporter like Joel B. Pollak. But don't take it from me, take it from the shocking "UPDATE" posted by Joel B. Pollak himself:
UPDATE: Ames responded on August 30 in a rambling ad hominem attack that made no effort to dispute the claims made in the article above. Indeed, its basic factual errors–e.g. my graduation date, easily checked–reinforce Ames's sloppy reputation.**[see below–Exiled Editor]
In addition, Many of the comments on Ames's article appear to have been written by Ames himself. We were able to establish, through the use of a proxy, that he edits comments to distort their meaning.

Original comment:

After Ames's edit:

One commenter–perhaps Ames himself–points out that FCC regulations on profanity apply to broadcast media, not cable. Since neither Ames nor his sockpuppets raise any other factual contentions, it is reasonable to conclude he admits all other facts and conclusions above.
It's all over, folks. You can't pull the wool over Joel B. Pollak's eyes, nosirree! So long as Joel B. Pollak has access to this super-duper hi-tech "proxy" technology, I'm doomed. Resistance is futile, earthlings!
And all along I was wondering what Joel B. Pollak learned at Harvard Law School. Now we know, folks: Joel B. Pollak spent those three years at Harvard figuring out how to use a "proxy." And with such devastating results!
By Joel B. Pollak's own "UPDATE" we learn how he deployed this futuristic hi-tech weapon that they call a "proxy" to crack the second-greatest mystery of our time (after the great Johnny Chen Conspiracy, which Joel B. Pollak already solved): Does the Almighty eXiled Moderator improve retarded comments? I mean sure, we make it plain and clear to every mongoloid inbred or Koch-sucking troll who comes onto our site that all comments can and will be subject to IQ-improvement by The Almighty Exiled Moderator… but folks, that didn't stop ace cub reporter Joel B. Pollak from putting on his cub-reporter's hat and going undercover, deploying his hi-tech super-futuristic "Proxy" to break open the truth about The eXiled Moderator.
Here, for posterity, is a screen-shot of Joel B. Pollak's second-greatest scoop in his entire failed life: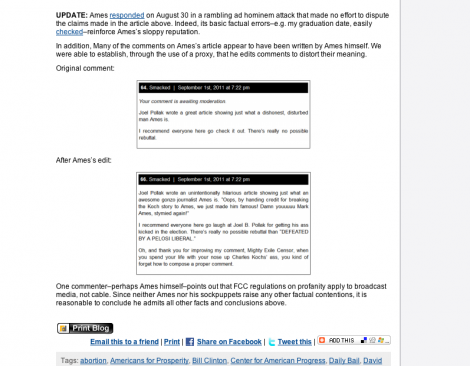 In case I haven't made this clear enough, I just want to say: "Thank you, Joel B. Pollak. Thank you for being so unintentionally hilarious. Thank you for playing the role of knucklehead-villain so perfectly. Thank you for being you: For doing that voodoo that you screw-up so well."
While it's true that you may wind up getting fired by Master Koch for screwing up this half-baked PR campaign to salvage Master Koch's reputation, just know that we little folk appreciate your art. True, you might get laughed out of that rank Island O' Misfits you inhabit over at BigGovernment. But to me, you'll always just be Joel B. Pollak, "Mr. Proxy," the Performance Artist extraordinaire who kept America tickled pink through hard economic times.
Joel B. Pollak, keep the comedy rolling, baby!
** = Reader informs us that Joel B. Pollak graduated from Harvard undergrad in 1999, and graduated from Harvard Law School some other year. We would take the time to correct this… but sadly, we can't be bothered.
Would you like to know more? Read more about Joel B. Pollak, Breitbart's Koch-monkey: ANDREW BREITBART ATTACKS EXILED EDITOR MARK AMES!…HIRES FAILED TEABAG REPUBLICAN TO INVESTIGATE THE GREAT "WHO IS JOHNNY CHEN?" CONSPIRACY.  For more background, read "Jim Goad and Gavin McInnes Beg Mark Ames: 'Answer Me, Please?'" Also read "KKKat Fight! White Power Fashionista John Galliano VS. White Power Fashionista Gavin McInnes."
Read more: andrew breitbart, breitbart, joel b. pollak, joel pollak, johnny chen, koch, oligarchy, proxy, retard, Mark Ames, Koch Whores, Libertards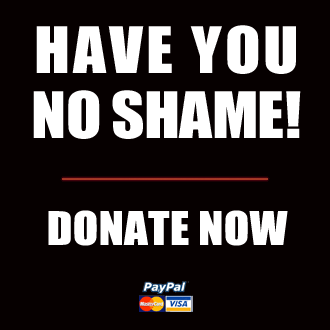 Got something to say to us? Then send us a letter.
Want us to stick around? Donate to The eXiled.
Twitter twerps can follow us at twitter.com/exiledonline