By Mark Ames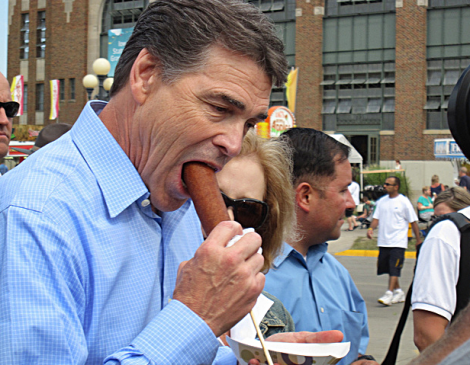 Poor Rick Perry: At last week's Republican debate, he unveiled yet another "enemy" that a President Perry would destroy for America–but no one paid attention. Gov. Perry's newest monster he's vowed to slay is the TSA union, targeted for the same destruction by Perry as Social Security, climate change science, Iran, and three other federal agencies TBA later.
Here's the quote from last week's debate in which Perry vowed that as president, he would vanquish the TSA union dragon:
"I would privatize [TSA] as soon as I could and get rid of the unions."
This comes less than six months after the TSA's 40,000-plus employees finally won (partial) collective bargaining rights, a hard-won semi-victory after their decade-long struggle to unionize, in what turned out to be largest single pro-unionization drive in decades.
By targeting the TSA union for destruction, Rick Perry has placed himself in some mighty fine company. For your reading displeasure, The eXiled is publishing a partial list of the TSA-union-bashing jihadists allied with Rick Perry's Crusade to kill TSA workers' collective bargaining rights:
* GLENN BECK: "You know they are trying to unionize TSA and they are being courted by the unions….You know when Barack Obama said he was creating his own private army? … But if you wanted to really have a security force, wouldn't a unionized TSA under the umbrella of Homeland Security be the best thing? I mean, why start a whole new security force when you already have one?" (Glenn Beck, February 7, 2011)
* SEN. JIM DEMINT: "Collective bargaining is a payback to unions with a kickback for lawmakers," DeMint said Monday in an interview. "Unionizing the 43,000 security screeners at TSA could give labor unions a $17 million annual windfall in the form of new union dues." ("DeMint leads GOP bid to strip TSA bargaining rights," March 5, 2007)
"DeMint said in a statement that the attempted [Underwear Bomber] attack 'is a perfect example of why the Obama administration should not unionize the TSA.' If organized labor got involved, DeMint said, union bosses would have the power "to veto or delay future security improvements at our airports." ("Who's running the TSA? No one, thanks to Sen. Jim DeMint," Dec 29, 2009)
* RADLEY BALKO, REASON MAGAZINE/CATO INSTITUTE: "Whatever you do [Obama], resist the temptation to let TSA workers unionize. Security from terror attacks should not be a federal jobs program. You need the authority to fire underperforming screeners quickly and effortlessly." ("Unsolicited Advice For Obama," November 17, 2008.)
* RORY COOPER, HERITAGE FOUNDATION, ex-BUSH DHS: "Unionizing the TSA personnel would be a mistake of epic proportions." ("TSA Should Not Unioize," December 1, 2010)
* DICK ARMEY, FREEDOMWORKS: "It's all about union membership in a union that imposes compulsory dues that fund their campaigns." ("Busy may be above fray, but partisan battles go on," November 4, 2001)
*JOHN FUND, WALL STREET JOURNAL: "After 9/11, Congress wisely decided to forbid TSA employees from coming under union work rules out of fear that it could compromise security. While it is not easy to fire TSA personnel now, just think how difficult it will be to remove bad employees if they are covered by union job protection agreements." ("How to make air travel more infuriating," November 26, 2010)
*JOHN TYNER, "DON'T TOUCH MY JUNK" GUY:
"I'm all for privatization of [airport] screening so long as the private sector is solely in charge of it and the TSA/FAA/etc. is out of the picture. I thought I had written about privatization under TSA direction before, but I must be remembering a message sent to a staffer in my congressman's office [Darrell Issa]." ("TSA In The News," February 2, 2011.)
"Firing workers does not violate the workers' freedom of association. If the government doesn't like the union, it should fire the union workers. It shouldn't be passing laws to determine in which manner a peaceful assembly/association/whatever can act." ("Democrats Flee Wisconsin," February 18, 2011.)
John Tyner–who last year became the honest-to-goodness face of anti-TSA hysteria–admitted that he was deceptive about last year's TSA "Don't Touch My Junk" media campaign that became a two-week headline sensation. Here's Tyner's confession:
"To those of you who feel duped, I apologize…I hope that the "revelation" that I had written about how to handle an encounter with the TSA and deleted said writing doesn't thrust me back into that spotlight…" ("The Whole Truth," November 30, 2010.)
This year, John Tyner unleashed his inner John Birch, which is something to keep in mind when recalling Rick Perry's vow to destroy the TSA union and privatize it. Here is the "ordinary American fed up with TSA oppression" John Tyner, now out of the looney-right closet, arguing: "the state is a criminal conspiracy." That's "Criminal." "Conspiracy." The American government. Where did Tyner get such a whacky idea? Tyner writes that he gets his ideas from Murray Rothbard, the radical libertarian who co-founded the Cato Institute with Charles Koch back in 1977.
If you don't know the name Murray Rothbard, guru to John "Don't Touch My Junk" Tyner, then this quick primer might help:
* Here is Murray Rothbard praising The Bell Curve, a racist book which argued that whites are racially/genetically superior in intelligence to blacks;
* Here you can read Murray Rothbard, John Tyner's guru, praising former KKK Grand Dragon David Duke;
* And here is Murray Rothbard the Social Darwinist worshipping the 1-percent oligarchy against the dreaded "egalitarians" (no wonder Charles Koch loved Rothbard!);
* And here you can read Murray Rothbard's definition of a "criminal," since John Tyner argues "the state is a criminal conspiracy." Hint: Rothbard's "criminals" are not white collared, or white period, as Rothbard explains in his political program:
4. Take Back the Streets: Crush Criminals. And by this I mean, of course, not "white collar criminals" or "inside traders" but violent street criminals – robbers, muggers, rapists, murderers. Cops must be unleashed, and allowed to administer instant punishment, subject of course to liability when they are in error.

5. Take Back the Streets: Get Rid of the Bums. Again: unleash the cops to clear the streets of bums and vagrants. Where will they go? Who cares? Hopefully, they will disappear, that is, move from the ranks of the petted and cosseted bum class to the ranks of the productive members of society.
Yes folks, this is the Cato Institute co-founder, Murray Rothbard, who shaped the mind of John "Don't Touch My Junk" Tyner, hero to so many liberty-loving freedomworks-fighters a year ago this month.
On so many levels the links between the anti-union Tyner, the anti-union Glenn Beck, and the anti-union Rick Perry make a little more sense–after all, Rick Perry is surrounded with racism questions, as both Salon.com and Max Blumenthal have written. And while John Tyner may be the most racially tolerant American alive, it's certainly disturbing that Tyner gets his ideas about the US government as a "criminal conspiracy" from Murray Rothbard, who was up to his eyeballs in sympathy with racism, authoritarianism, and union-bashing.
One thing I'm sure Perry, Beck, DeMint, Balko, Tyner and their TSA-union-bashing comrades would agree on: the only reason they're out to destroy the TSA union is their noble selfless desire to protect our "Constitutional liberties." They're fighting for our children, and our children's children, so that they might some day live free from the terror and tyranny of TSA unions.
And the depressing thing is, some of you suckers still believe them.
Would you like to know more? Read Mark Ames and Yasha Levine's articles "Did You Fall For It? America's Outrage Over TSA 'Porn Scanners' Was Right-Wing PR To Prevent Workers From Unionizing" and "The Real John Tyner: Anti-Labor Extremist, Anti-Gay Marriage, Pals With Neo-Confederates and John Bircher Conspiracy Theorists, and Deceives America" and for background, their original article in The Nation: "TSAstroturf: The Washington Lobbyists and Koch-Funded Libertarians Behind the TSA Scandal". Also read "Porn Scanner Propaganda Watch: Texas Anti-TSA Movement Led By Far-Right Christian Fascists" by Yasha Levine, and "Khloe Kardashian's Army: Meet The C-List Celebrity Martyrs To TSA Oppression" by Mark Ames.
Mark Ames is the author of Going Postal: Rage, Murder and Rebellion from Reagan's Workplaces to Clinton's Columbine.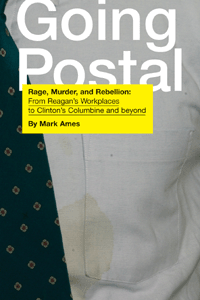 Click the cover & buy the book!
Read more: anarcho-libertarian, cato institute, charles koch, charles murray, conspiracy, david duke, Dick Armey, don't touch my junk, freedomworks, glenn greenwald, Heritage Foundation, jim demint, john fund, john tyner, junktard, libertard, libertarian, murray rothbard, reason magazine, ron paul, the bell curve, tsa, wall street journal, Mark Ames, Class War For Idiots, Koch Whores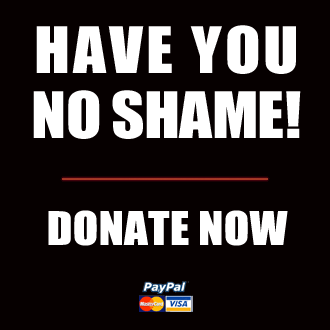 Got something to say to us? Then send us a letter.
Want us to stick around? Donate to The eXiled.
Twitter twerps can follow us at twitter.com/exiledonline