By The eXiled Inquisition Team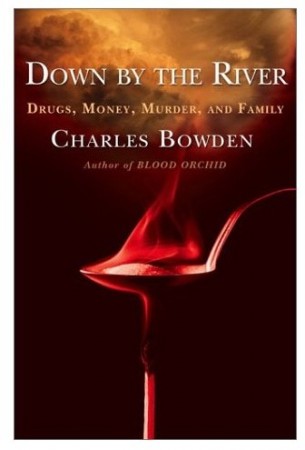 Today's Topic: In semi-praise of Down by the River.
Statement of the Grand Inquisitor: As we have ruled earlier, there are few good books. Down by the River by Charles Bowden, a meandering and disorganized collection of facts, soundbites and stories about the opaque world of Mexican drug cartels, barely makes that list. It does so not by virtue of its poetic style and profound obliqueness that reads like something out of McCarthy's Blood Meridian, but by offering up a steady stream of fun Mexican drug trade trivia. Books about drug cartels generally don't need a master stylist to make them interesting–they need a patient stenographer to put the stories and facts in one place. And Down by the River manages to do exactly that. If you're into the drug violence erupting in Mexico but are hard up for answers, this book is for you.
Down by the River uses the unsolved murder of a likable Mexican-American kid from El Paso, Texas, as its plot vehicle. Killed in an apparent carjacking gone wrong, the kid would've been just another forgettable statistic if it wasn't for one important detail: his brother was the head narc at El Paso's massive DEA office. , The brother never came close to finding out who ordered the hit, or if it was even a hit at all. He was walled off on all sides: his own agency told him to drop it, the Mexican government protected the alleged shooter, and, despite more than a decade of experience and a huge network of informers, his personal investigation led nowhere. That is, nowhere other than a broken marriage, a comic addiction to playing the lotto dozens of times a day and a couple of hundred thousand dollars of debt.
Bowden uses the down-and-out narc as an intro into the tangled world of the War on Drugs. His is a depressing tale, but pleasant to read. Nothing makes us happier than reading about narcs suffering. But Bowden's strategy ends up almost killing the book. He just does not know where to stop. At some point, the narc's whole extended family is introduced into the story. Their history, their dreams, hopes, ambitions, secret family recipes and how the death affected all of them. Huge sections of the book are dedicated to detailing ethnic mood scenes from the South West border: the smell of chilis roasting on the grill, a solemn traditional Mexican family gathering, the sound of corn tortillas being made, or a mother's sighting of her dead kid's ghost. All that makes for some really torturous reading.
But there is a redemption: despite the lyrical bullshit, you can tell that Bowden isn't really on the narcs' side. Maybe he didn't want to hurt their feelings. Maybe he can't write in another way. But you can feel his basic loathing for them and anyone they associate with. The biggest tip-off is that Bowden never tries to moralize the drug trade, not even for a second. He states over and over that the drug trade is business and the drug lords are businessmen. But they are more than just merchants to Bowden. He praises them; even roots for them, just like the Mexican peasants who compose Homeric ballads about the lives, adventures and conquests of the narcotraficantes.
At some point, Bowden quotes Amado Carrillo, the shadowy Juarez cartel leader who faked his own death in 1997, bitching about Mexican politicians Tony Montana-style: "The people who steal money from Mexico and take it out of the country to Switzerland are more of a disgrace than I am. I bring money here to stimulate the economy." Bowden backs him up without skipping a beat:
In this unwritten history, the drug merchants are almost the only honest players: vicious, greedy, murderous, and candid about their behavior… They are also one of the few industries in the developing sectors of the earth that really do redistribute income and do so at a level without parallel in the thousands of assembly plants now employing the poor of the planet.
Aside from his sympathies to the drug trade, Bowden weaves in a lot of fun Mexican drug trade facts. They're not crafted into any narrative, but are a gem for anyone interested in Mexico's drug scene. Did you know that Mexico earns about $10 billion dollars off of its nationalized oil industry and anywhere from $27 to $60 billion from the drug trade? Or that a third of all arable land is used for opium and marijuana cultivation? How about a cartel's profit margins? Did you know that a 100-ton coke seizure worth a quarter billion dollars causes no fluctuation in the market price? That's because a kilo of processed product costs about $1,000 in Colombia. By the time it gets to America, it costs $200,000. Ever thought about corruption on the US side? Well, in the 90s, the US government estimated that about a third of all US Customs officials were on the take. Then there's the big picture stuff about how the US did not want to call too much attention to Mexico's drug problem because no one wanted to hinder NAFTA's passage. Or how every single Mexican president has had a slush fund kept full by the drug cartels. Or that American banks laundered up to $5 trillion in drug money for the Mexicans in the 90s? The trivia just keeps going.
Verdict: If we held a course called Mexican Drug Trade Studies, this book would be required reading. And like all textbooks, this one contains a lot of material that we would gladly skip over.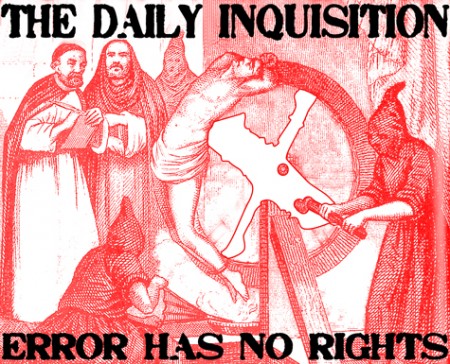 Read more: Charles Bowden, DEA, Down by the River, drugs, mexico, war on drugs, The eXiled Inquisition Team, Books, The Daily Inquisition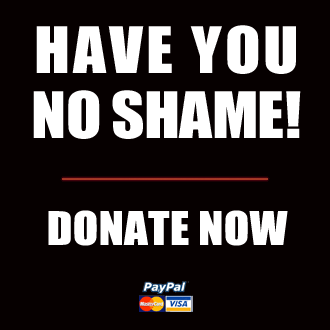 Got something to say to us? Then send us a letter.
Want us to stick around? Donate to The eXiled.
Twitter twerps can follow us at twitter.com/exiledonline