By John Dolan
Later, he sometimes claimed that his hobby of swooping down on the most miserable black prostitutes he could find in West Oakland was revenge for his time as the small, asthmatic white kid on those terror playgrounds. Other times he'd admit that was all a lie, sort of. That was another trademark of smart losers in Berkeley: being able to dissect their own lies, and a deep loathing for anything that reeked of humanist psychology.
Elaine found him after he'd dropped out of grad school, been anathematized by his cool literary friends, and divorced by his second wife. I went to see him–I'd always liked him, except for the mean streak, and besides, he'd introduced me to Celine–and had trouble even finding his hovel. People lived in a wild range of degraded habitats in Berkeley–under some professor's house, in what used to be the maid's punishment room, stifling mother-in-law suites over some immigrant family's garage–but Alex was staying in a shed, an actual shed in the back yard of a pseudo-Asian duplex in Albany. I had to make my way through fake Korean shrines and a dozen cats to find him, sitting with his usual dazed, bitter smile in the middle of his books, on the one chair in this thing that was halfway between a cartoon dog house and a kid's playhouse gone to seed.
I made my way out of that mess fairly sure that Alex was done for. His kind didn't last long in Berkeley. He was the real thing, an actual intellectual–and also very intelligent. Bad, bad combination, especially with his big mouth. People used to mock him as soon as he left the TA lounge for his habit of wanting to talk about books outside the classroom. There were ways of doing that which were socially acceptable–you know, prefacing it with NBA chatter or elaborate self-deprecation–but Alex was too dumb to understand all that. He'd just start blathering, and worse yet about good writers, Celine or Nizan. They eased him out with hardly any delay.
He wouldn't have been the first to–well, not "die"; people didn't usually die outright, especially early boomers like Alex–but to vanish, fall off the screen. Go live with Mom, give up, pick coffee in Nicaragua, teach rich kids to beat the SAT, one of the many available awful fates.
Six months later I get a call from Alex inviting me to come and see him. The address was the first surprise, up there in the hills. But I figured it'd be one of those servant's quarters sublets that seem so obviously degrading now but didn't bother anyone back then. I risked my Hyundai's moribund clutch going up Cedar Street and parked by the address he gave me, in the wealthy quiet, staring down on the losers stretching all the way to the Bay.
It was a modest mansion, a very Bay-Area phenomenon. Every time I go down to LA it makes me laugh, the gold Bentleys and in-your-face star homes. They must be very insecure down there. In Berkeley you know somebody ten years before they admit to you they're rich, and they design their mansions with the same discretion. This one looked, from the street, like a suburban ranch house, almost a cleaner, newer version of our three-bedroom/two-mortgage Pleasant Hill place. It was as cunningly and falsely domestic as those fake subdivisions SAC used to build over missile silos in Kansas.
Step down into the garden and the place already disclosed some fraction of its real income. Many, many Mexicans were required to make a garden look so whimsically zen. Ring the bell and the house spilled its whole story, chuckling with you at the cool just-folks facade. Because that front door opened on a hallway as long as a Blue Whale, opening on the deck, the hidden gloat-altar at the back where the house could relax and boast and spit on the lesser folk. It was that vertical: you could have spat a long way down the old socio-economic graph from that deck. Only Marin County, far off on the diagonal, seemed to nod with anything like equality. Everything else was far below.
Alex waved me in, chuckling a little, proud of himself. Didn't say a thing–odd for Alex–but let me enthuse. I look like Otis the Roofer, and have an easy time doing a Gomer-Pyle "Gol-lee!" mainly because a lot of things actually make me react that way. I used to believe those poor-mouthing trust fund liars, thought everyone was broke like us. Rich people were news to me, and this house was like being admitted to their secret HQ. Rooms upon rooms, from the top "I'm just a little house" level down through the three lower floors, ending at last with the garden, a terrace chopped out of the cliff and staffed with various hired showgirl fauna.
My appreciation did Alex good, and I was happy enough to ham it up for him. It took him a while, sitting out on that sin-soaked, ought-to-be-illegal deck, to give me the story of his sudden resurrection. Basically, he'd been well on his way to total failure, about to be evicted from his Asian doghouse, when he ran into Elaine at a party.
Alex was too smart and too grim to think he'd swept her off her feet. For one thing, Elaine was a lesbian, had been all her life. Once you knew her, that seemed obvious; not in the sense of a genetically-programmed sexual orientation but because Elaine was all one great complacent and implicitly male ego; she would always have to be in control of 51% of the stock. And the first, simplest and most obvious way to ensure that was to be the man.
Alex showed me a picture of Elaine with one of her girlfriends in some third-world boat being ferried to a beach tryst. He wasn't stupid enough to think it was cool like most male porn-heads do, but he wasn't hostile either. It was all part of the storyline that had landed him this job, and he was pretty damn pleased about it.
He understood what Elaine was after: a decent-looking, certifiably Jewish husband who had the sort of credentials which would please her family. One who could be controlled–and Alex's passive, self-centered nature, along with his absolute impoverishment, made it easy to see how he could be controlled.  Alex accepted the role with pleasure, at first. It was a good deal for everybody. He made a good groom in the wedding pictures–Elaine was a dumpy roundish woman, so he was contributing 51% at least of the looks–and soon checked off Number One on his "To Do" list by siring Emily, born with all her limbs and no apparent mental disabilities. Emily seemed to satisfy, more than satisfy, Elaine's maternal enthusiasm–she soon went into the hands of a succession of illegal mainland-Chinese nurses, whose hiring turned out to exclude Elaine from a cabinet post in the first Clinton Administration. All Alex had to do was finish his doctorate, then use Elaine's connections among the Bay Area's achievers to stroll into success.
He couldn't do it. She got him a shrink, one of the expensive ones. The shrink knew everybody who was anybody and got to the point, offering to act as Alex's literary agent if he'd just write something besides poems.
Read more: berkeley, john dolan, John Dolan, Fatwah, Featured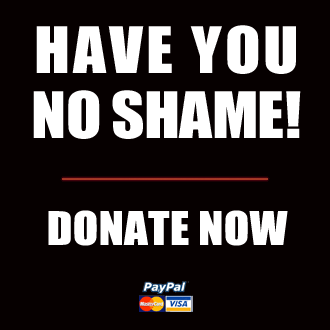 Got something to say to us? Then send us a letter.
Want us to stick around? Donate to The eXiled.
Twitter twerps can follow us at twitter.com/exiledonline