By John Dolan
Our black woman came out and showed Alex the rocks. He was lordly but thorough, opening her hand to look them over, count them. She accepted this without question; they were both devotees of this feudal ritual. Alex was satisfied. We drove back to her place. Not a lot of furniture, just faces. Her daughter, nervous and submissive. And this other guy, a black Gollum who was always peeking over the arms of chairs and around the doors of rooms. She introduced her daughter, but not Gollum. The only time anyone acknowledged his presence at all was when we were out on their third-floor porch and I was finishing my first pipe. For about thirty seconds I was enthused and said, "Damn! It makes you want to, you could got out and conquer the world, destroy–" Just my way of saying, "An excellent vintage, madame," but it scared the lady. Alex, in his new lordly voice, reassured her, "Don't worry, he just talks that way, he's fine, he won't do anything." Which was very very true. With the last volts of the hit I realized the miserable gap–miserable on both sides–between my nerd fantasy violence and the real thing, as it intersects the life of an aging crack whore.
I shut up and remembered my manners, passing the pipe to Gollum. The woman and her daughter stopped being scared and yelled, "Don't give him any!" I looked at Gollum and he grinned, groveling and inviting me to kick him. I passed the pipe to the daughter. After her hit, she too felt the need for a restoration of high courtesy; she offered me a sip from her can of disgusting strawberry cola. I thought about all the places those lips had been and smiled and said, "Ah, yes, thank you, thanks," and drank.
They did two more rounds but I was through. The high had been as crudely brief as a quarter's worth of peepshow, and turned instantly to a childish whine in my head for more. I was suddenly convinced that all that Berkeley lefty bullshit about the CIA bringing crack to the ghetto to fund the Contras was the flat truth. I wanted to go home, get my poor dog and go home, weeping at the thought of my dog loose in merciless Oakland, run over, shot, fed to pit bulls.
We drove back to his crazy mother's little house and there was my dog, unhurt but well aware of my betrayal. I drove him home to Pleasant Hill and was actually friendly to my parents for fifteen minutes or so.
Clearly the ritual did something for Alex it didn't do for me. Which might have had something to do with the prostitutes. I went along on one of those rides too, but nothing much happened. We drove around the railroad yards, picked up a scared skinny black woman, talked to her for a while. Alex was driving, I was in the back; she thought she was going to be killed. And the weird thing is, as always happens, I didn't enjoy that at all. Sade Schmade.
Alex enjoyed it, I supposed. That real fear. To be the cause of it, not the bearer. In theory I'm all for that, after all, but bleagh, if you'd seen this woman….no. That's not what I meant at all. The same nerd-fantasy meets West Oakland gap.
Of course I didn't have to go home to Elaine. That's what made it savory for Alex. And even that savor didn't last; when I saw him again he'd just got out of some expensive rehab place. And, he told me, one of the funny ironies of the program is that one of his fellow patients was this black woman who'd been part of the DEA squad watching his house. "They were watching your house?" I screeched.  "Yup. I knew it back then. I could hear them under the floorboards."
It's always weird when somebody you've known a long time flips from the "mean, selfish but roughly speaking sane" category to the "clinical" bin. I'd been in that house dozens of times. The floors were dug into the damn hill; nobody was under the floors.
It was time to be a good listener again, go into my "Gol-lee!" routine. He went on and on, as schizos always do, as if piling on details would make their overreadings valid. It annoyed me, Alex slipping into the loony bin, because one major premise of Berkeley life is that you don't "go" crazy. There are crazy people and merely fucked-up people and they don't overlap. Probably a necessary fiction when you walk home through a minefield of yowling lunatics every day. And now he'd disproved that consoling law. Selfish as ever.
And God knows, Alex was or is a selfish man, a bad dad, deceitful husband, backbiting friend and Exhibit A in the Spoiled Boomer diorama: "SEE the man who's wasted more chances than certain entire countries–Chad, my friends, Mali, Kyrgyzstan! Think of it! This man has had more chances in one existence than Central Africa has had since the Ice Age! And yet, hear him whine!"
But Alex knew that too. He wasn't stupid–very smart man, actually. Too smart for UCB; I saw that with my own eyes. And awful as he was, too decent for the literary world there. That was Alex's saving grace: he kept blundering into scenarios that cleared the head, in a place where it's very, very difficult (and dangerous) to display any interest in the truth. He fell well. Every horrible whining anecdote had a point, wrong and absurdly self-serving–like Celine's–obnoxious and distasteful and somehow very wholesome, a palliative for life among those pious liars. His first fall had been from literary grace, avant-garde grace. It's still my favorite. Alex was living the properly bleak life in a basement in SF, starving, staying up all night arguing ideology and poetics and Zukofsky and other unreadable crossword-puzzle ravings with the most, THE most disgusting literary mafia of all: The Language Poets. Believe it or not, these guys–and they were all guys, grim white guys with no talent or sense of humor, Miniver Cheevys wishing they'd been born in Leningrad, when it was starving and cuspy, you know, before it sold out. Alex was one of the original members, which was one of those chances he threw away. But here, see–"threw away" is tricky here; you live in Berkeley long enough and you kind of like people who threw this filth away, even if they did it by accident, even if they were trying to sell out–because at least they failed, at least they didn't fit the bill.
Alex fell from grace with the Language Poets' official coven when he entered grad school at UC Berkeley. He was ashamed of working for the Institution, but confessed it was nice to be able to feed himself and his wife, who was unavailable for fulltime work due to the fact that she was insane and spent her days talking to the squirrels in Golden Gate Park. Mocked by the sleek career-track future profs in the TA room, he was far more bitterly spurned by his Language-y pals. They were as furious as if he'd written a sentence that actually made sense. In their world, certain crimes were unforgivable, and working for the hated academic mainstream was the worst. The one time I saw Alex close to crying was when he told me how the Language poets who used to sleep on his couch now walked past him in the SF streets without a word, wouldn't return phone calls, and let him know through intermediaries he was a heretic, a walking corpse, as far as they were concerned.
Read more: berkeley, john dolan, John Dolan, Fatwah, Featured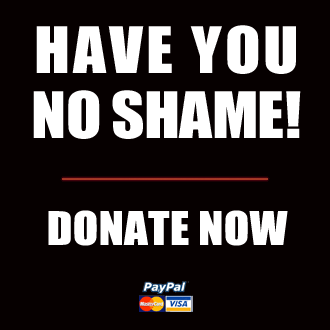 Got something to say to us? Then send us a letter.
Want us to stick around? Donate to The eXiled.
Twitter twerps can follow us at twitter.com/exiledonline