By John Dolan
He couldn't do it. Every couple of months, Alex would get so sick of exile among the achievers he'd call me and we'd go somewhere for coffee so he could bitch about Elaine and his gilded-cage existence, after which he would make a decent pretense of listening to my similar whines about the unfairness of hiring committees, the volume of nonsense written about Sade, and all the jerks in the Rhetoric Department. It was a lot like other distant friendships with fellow poet-losers, except that Alex had a car. That actually ran. And once, when we were getting money out of the ATM for lunch, he got distracted by his denunciation of Elaine and left $300 in the machine. He remembered about an hour later, just when he'd finished his designated 45 minutes of complaint and had settled down to pretend to listen to my 15 minutes. It was very typical of Alex to remember at that precise moment, and very typical of me to try to wedge my 15 minutes in anyway, as we drove back to the ATM to find the money gone.
He wasn't worried about his wife's reaction, like anybody else would have been. "No, she won't even notice." He was more embarrassed at having revealed how rich he was–pure Berkeley again–and in some way, I could hear in his whiny nasal dirge, so horribly like my own, that he had come up with some way to blame me for distracting him and making him lose the money. You always knew that with Alex: you were going to feature in his complaints to Elaine as soon as he'd said goodbye to you after a pleasant lunch elaborating on his complaints about her.
But it gave me an idea. I mean, $300 was serious money to me. "God, Alex, listen, if she…seriously, if she won't even…come on, you've got to: I mean just do this every week. Your own account. Set it up. Every week $300! In a few months you'd have [pause while I try and fail to do the math]…a lot of money!"
I'd already heard about the pre-nup: Alex would get $10,000 if they divorced, flat sum, not a penny more. That was classic too: Elaine was thick and gullible about everything except money.
So I recommended slow larceny; that was my little Alex-improvement plan, self-help tips from the gutter. But he refused, wouldn't say why. I think he was a bit disgusted with me, no doubt told Elaine that night that Dolan was really going downhill.
And Dolan was, too. Couldn't get a job anywhere else, stuck at Berkeley–and the only reason I had a job there was because my dissertation advisor felt guilty about persuading me to write on Sade instead of Stevens, which accounted for my jobseeking record: 0-for-700, 100 jobs applied to every year, zero acceptances. Flying to the MLA at my own expense every Xmas to grovel in a hotel room to three or four tenured burghers. Condescending letters of recommendation for a Comp job at the University of Southern Mississippi…Not just Mississippi but Southern Mississippi. Not good enough for them. Not good enough for Central Missouri or Northern Louisiana (which is worse, Southern Mississippi or Northern Louisiana?). Fatter and balder and crazier with bitterness every time I made the climb up to see Alex.
Always I expected him to be sitting on the sidewalk, his pitiful unfinished Blake dissertation blowing in the wind. But no matter what he did, Elaine kept him on. He was still decorative and cheap at the price. It drove him crazy.
Thus the trips down to West Oakland. He ended up withdrawing a lot more than $300 a week and spending it on crack and blowjobs. And inviting me up so he could brag about it. I couldn't believe it at first. Alex was about 5'8″, thin, affable and abstracted. And white. Very white. The notion that he could walk into one of those dreaded "crack houses" and come out alive contradicted everything in the paper. Lots of people did lots of drugs, but nobody I knew had ever tried crack. Even powdered cocaine was rare, out of our price range.
The way Alex told it, there was no risk at all. "If you've got the money, you've got the power. That's all they care about, it's all about power." It sounded like more grad-school bullshit, but one time he took me along and I saw what he meant. I was living with my parents again, out in Pleasant Hill, because Mitzy had given me a Great Dane puppy as a goodbye gift when she went East. A fatal gift. You really hate somebody, give them a puppy. No landlord in Berkeley would take a giant puppy, so I parked him out there with my parents, who at least had a yard, and tithed most of the week to driving out and giving him a good walk in the park. And that's how five years went by without much of anything.
When Alex called I said I had to take care of the dog, but he said he was staying at his mother's house in Oakland and there was a yard: "Bring him along, we'll leave him here, come on."
Turned out the yard was about a meter wide and two deep, a garbage-can storage area more than a yard. For that matter, the house was more like a movie set: if the shotgun hallway of Elaine's mansion was as long as a blue whale, the hall at Alex's mom's place would have had trouble accommodating a Hector's Dolphin. Borstal looked at me the way only a dog who trusts you can look when you've thrown him in a garbage pen so you can go to a crack house.
I was scared. I grew up in the Bay Area when that stuff was real. It amazes me how little overt racial hate there is in California now. If you lived in Oakland back when I did, it was a given, and at that moment it was all flowing one way. We would be killed, and in the process my version of the world would be vindicated.
But Alex's version was the simple truth. We picked up his contact, a middleaged black woman who talked very quickly. Alex had explained on the way over that she was a prostitute, and so was her daughter, who shared the apartment with her. He honked from the street and she came bustling out, the first sign that everyone would jump to Alex's call as he'd promised.
We drove her to the crack house, and there I was even more sure we'd make the morning papers. Lank sudden zombie figures popping up out of nowhere to stare into the car, then shamble into the same door our contact had entered. But they weren't hostile; they were preoccupied with other things. Nobody bothered us at all.
Read more: berkeley, john dolan, John Dolan, Fatwah, Featured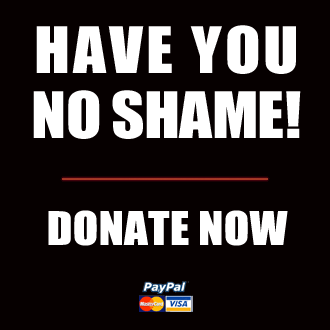 Got something to say to us? Then send us a letter.
Want us to stick around? Donate to The eXiled.
Twitter twerps can follow us at twitter.com/exiledonline