By Eileen Jones
Such a clever satire of a repressed society. Such an apt continuation of George Romero's "cleverness," his allegorical critiques of American culture in Night of the Living Dead, Dawn of the Dead, and Day of the Dead.
But that's exactly the problem. Just like it's grossly stupid to think of Pride and Prejudice as a story of people who were witty and mannered in order to avoid dealing with sex and money, so it's sickeningly dumb to reduce Romero's films to allegories condemning Our Racist Society or Our Militaristic Society. Yet ask a zombie-film-loving idiot what he likes best about Romero films, and if he's a true idiot he will tell you his favorite thing is when the zombies go shopping in the mall in Dawn of the Dead. Terrific satire of the mindlessness of Our Consumer Culture! CONSUMER culture, get it? Get it?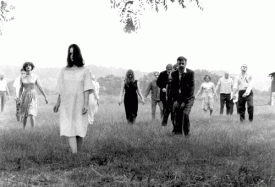 Let's try to get this straight, people. The greatness of Romero's trilogy is not in its allegorical devices. It's in the way these devices go into the meat grinder along with everything else. Romero comes up with the most appallingly realized vision of abject horror ever conceived, the complete Darwinian nightmare on film, and people think he's doing nothing more than riffing on topical events.
And they're at it again with this zombie revival. Lev Grossman at Time opines,
It was the beginning of the end for vampires when Lehman Brothers went under, those bloodsucking parasites. Down with vampires. Long live (or is it die?) the zombie: the official monster of the recession.
And Adam Cohen of The New York Times chimes in,
Zombie stories often end with a hearty band retreating to a small, secure space — a cabin or a shopping mall — and fighting for survival. It is the horror movie's equivalent of embattled investors today who are shifting their retirement funds into cash and stocking up on gold and canned food.
The danger is that this kind of guff gets such wide circulation, writers and filmmakers start to believe it and create new zombie works that are just as stupid as the critical take on old zombie works. Romero himself was not immune, and seemed to make his later zombie films in accordance with the thin satirical notions he'd read about in some cinephile journal: It's all about corporate culture! See how one of the zombies is carrying a briefcase?
So now it's Recession Zombies, or Repression Zombies, or Psychobabble Zombies, or something just as weak. My one remaining hope is that World War Z might be good. People say that though author Max Brooks is Mel Brooks' son and an SNL writer, and though his earlier Zombie Survival Guide is clearly a parody (that succeeds by its solemn, wooden seriousness), World War Z is an excellent addition to the zombie canon. I'm frankly afraid to read it. Is it any good? Could it possibly be any good? Readers, please advise.
Read more: Breathers, George Romero, Night of the Living Dead, Pride and Prejudice and Zombies, Twilight, World War Z, Eileen Jones, Books, Entertainment, movies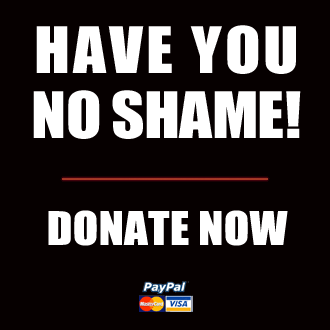 Got something to say to us? Then send us a letter.
Want us to stick around? Donate to The eXiled.
Twitter twerps can follow us at twitter.com/exiledonline