By Eileen Jones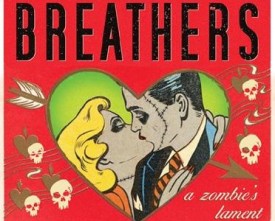 A short while back I wrote a review for the appalling hit movie Twilight, mourning the fact that vampires and werewolves were being ruined by soft-serve sex fantasy addicts, but rejoicing that at least zombies were safe. No way to make a zombie into somebody's clingy boyfriend, right? Right?
Wrong. Zombies themselves are under attack, their fearsomeness rendered conventional and silly. In Hollywood, as we speak, they're planning to make a romantic comedy with zombies in the lead roles.

It'll be based on the new book Breathers: A Zombie's Lament, and produced by Diablo Cody of Juno fame. The book is one of those heavy-handed comedies people like so much. In it, a bunch of zombies, inexplicably risen from the dead, are just regular people who happen to be decaying and smelly and are therefore subject to unfair marginalization by a prejudiced society. They've got the same tiresome psychology as they had before death. So, after a period of attempting to abide by the draconian laws of the land, they revolt and "find themselves" by allowing their flesh-eating impulses free reign. Then it's right back to suburban living.
Here's a description of the barbeque hosted by our hero, Andy Warner, where his group of zombie friends eat the remains of Andy's parents:
"You two hungry? " asks Naomi, offering us a plate of deep-fried fingers with ranch sauce.

Rita takes one but I decline. I'm not much for finger food.
How much you like that pun will probably determine how much you like the book, and perhaps the movie. I've noticed that the corniest humor, if it's given a "quirky" modern spin, goes over as well with contemporary youth as Hee Haw did with their great-grandparents. Zombies provide the quirk here. Presumably everything is funny with zombies, so we plod through all the obvious scenarios dictated by the premise: zombie Andy goes to group therapy, zombie Andy rebels against his parents…defies the law…gets a girlfriend…has zombie sex…
The zombie sex part takes up a chunk of the novel but is not in the least interesting. In author S. G. Browne's rote fantasies, post-mortem decay somehow avoids the breasts with their erect rosy nipples, and the penis perpetually engorged and at the ready. Everything that interests him has to stay pink and springy, so he makes the zombies' flesh-eating practices "regenerative" over time, at least in the erogenous zones. So zombie Andy and zombie Rita find love and get pregnant and prepare to have a zombie family in a world that doesn't accept them and yadda yadda yadda. It's weird, it's like 1950s America forever in this book. No matter what happens, nothing happens.
But I know how some people like that sort of thing. Total failure of the imagination is just what they're looking for in pop culture artifacts.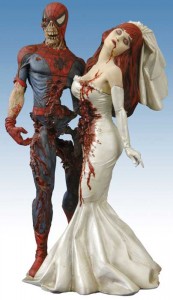 You might say that Breathers can represent no real threat to zombies—one lame book being made into one lame film!—but there are lots of other books and films amassing around us which bode very ill. "Zombies are the New Vampires" crows a Time Magazine headline, and the article relates the terrible evidence:
Later this year, Woody Harrelson and Abigail Breslin will star in the zom-com Zombieland. Max Brooks' best-selling zombie novel World War Z is being filmed by Marc Forster, the guy who directed Quantum of Solace. In comic books, the Marvel Zombies series features rotting, brain-eating versions of Spider-Man, Iron Man and the Hulk. The zombie video game Resident Evil 5 shipped 4 million copies during its first two weeks on the market. Michael Jackson's zombie video Thriller is coming to Broadway.

Apparently no one is safe from the shambling, newly marketable armies of the dead — not even Jane Austen. Seth Grahame-Smith is the author of a new novel called Pride and Prejudice and Zombies, about a strangely familiar English family called the Bennets that is struggling to marry off five daughters while at the same time fighting off wave after wave of relentless, remorseless undead — since, as the novel's classic first line tells us, "It is a truth universally acknowledged that a zombie in possession of brains must be in want of more brains.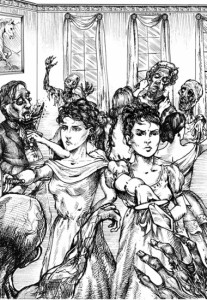 At least Pride and Prejudice and Zombies preserves certain aspects of the zombie identity, or lack of identity, as a soulless flesh-eater. But it shares with Breathers that relentless, pedestrian humor, the conviction that a joke that's funny once must be funny ten-thousand times in a row. Enough material for an amusing article in The Onion gets stretched over three-hundred pages. We do a long march through Austen's Pride and Prejudice, chapter and verse quoted all the way, with a zombie "plague" stirred in. Netherfield Hall is available for Mr. Bingley to rent…because the previous owners were devoured by zombies. The Bennet girls are deemed insufficiently "accomplished" in such feminine arts as drawing and screen-painting…because they were being trained in the "deadly arts" of zombie-combat. Lady Catherine de Bourgh is formidable because…she's a master zombie-slayer. And so on and so on and so on and so on and so on and so on.
Critics marvel at this brilliant conceit. As Lev Grossman sums it up in Time,
It's surprising how easily Austen's novel succumbs to the conventions of a zombie flick. Much of Austen's work is about using wit and charm and good manners to avoid talking about ugly realities like sex and money. In Grahame-Smith's version, zombies are just another one of those ugly realities. "What was so fun about the book is the politeness of it all," says Grahame-Smith, who's a freelance writer in Los Angeles. "They don't even like to say the word zombie, even though their country is besieged by zombies. They're everywhere, and people are literally being torn apart before their very eyes, and other than the very few, like Elizabeth Bennet, who face this problem head on, they would almost rather not talk about it."
So in the novel the zombies are referred to as "unmentionables," an old-fashioned term for women's undergarments, working the zombie-sex connection again here. Get it?
Read more: Breathers, George Romero, Night of the Living Dead, Pride and Prejudice and Zombies, Twilight, World War Z, Eileen Jones, Books, Entertainment, movies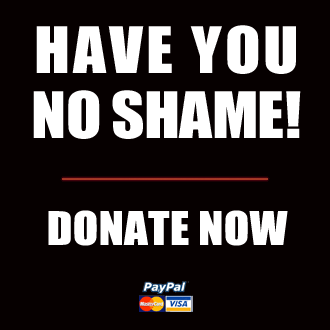 Got something to say to us? Then send us a letter.
Want us to stick around? Donate to The eXiled.
Twitter twerps can follow us at twitter.com/exiledonline