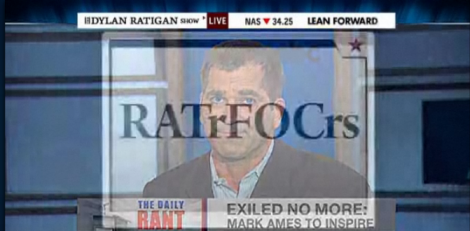 UPDATE: We've set up a "FOC the RATS!" website, click here.
Mark Ames unveiled on MSNBC's Dylan Ratigan Show the long-awaited answer to waffentwerp Grover Norquist's anti-tax crusade: It's called Real Americans For Tax Reform. [Read the transcript of "Manifesto" below the video.]
Folks, we all agree that the American middle class's Golden Age was during the Eisenhower presidency of the 1950's. And we also know that the top tax rate under Ike for the richest Americans was 91%. That's 91%. Repeat: The rich paid 91%. So if America is going to be great, we must tax great.
Already, Real Americans for Tax Reform has formed a coalition with the Foundation On Constitutional Reform to create a new mega-movement of grassroots activists called RATrFOCRs. The goal: To force every single Democratic Party candidate to sign a pledge to raise taxes on the top .1% riches Americans, so that they pay the same tax rate they would have paid under President Eisenhower, during the Golden Years for America's middle class. In other words, the richest Americans would have to pay a 91% tax rate again. Sure, it'd mean the rich would have to take a bit of a haircut, but if Ames can do it [see photo], so can Bill Gross.
Watch Ames roll out RATrFOCR on the Dylan Ratigan Show, and behold the magic of history: (more…)