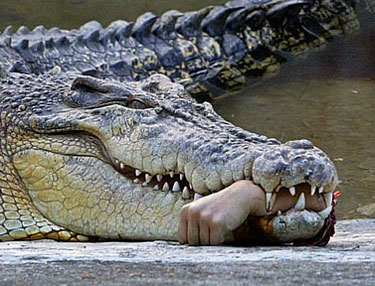 (This article was first published last week on Playboy.com)
America is now in a state of bloodlust, following the shocking realization that there are bad people at the top of our economic food chain. We knew there were some bad apples out there, but AIG's $450 million bonus swindle simply defies everything we assumed about the American character, particularly the character of our best and brightest, our All-Star Success Stories.
It was one thing to bail out their banks and insurance companies—at least our tax dollars weren't being wired directly to specific people with names and faces, but rather to "institutions," which makes it a little more palatable. But now, with the AIG scandal, there are real people stuffing their pockets with money looted from us. It suggests that they have no conscience. That they learned nothing. That, in fact, they didn't give a fuck about our bailout on any emotional grounds, except as it presented a new feeding opportunity. Despite how it works in the movies, we haven't been brought closer together—we, the common folk taxpayers, and they, the super-wealthy villains we bailed out. And this is what's so enraging and humiliating: We were denied that cinematic transformation of character that Americans have been brainwashed to expect from our billionaire CEOs with their hardened hearts-of-gold—think Oscar Schindler's climactic anti-greed speech, or Mister Magoo throwing coins out the window in the cartoon version of A Christmas Carol.
The shock we're feeling today is like the shock and rage a wife feels after her husband is arrested on 152 counts of child molestation spanning three decades. How could we not know, when it's been going on every day, every year, right in front of us?
(more…)