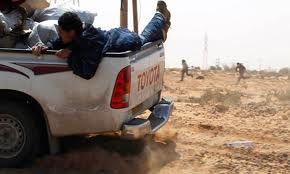 Rebels doing what they do best: fleeing.
Libya is such a pitiful mess that it should keep the scriptwriters going for years.
For the dummies, you've got a good and evil story, with Qaddafi as the bad guy. Somewhere in Hollywood, producers are hitting scriptwriters on the heads to help them come up with an inspiring title for the upcoming Libya flick. I'm betting they'll go for something automotive, thanks to all those pictures of Libyan rebels commuting to battle in their SUVs.